At ALMIS International, we're proud of our track record in developing and installing software for companies who license our solutions. We want clients to get the most out of our products and we use their feedback to continually improve and update them.
We go the extra mile for our clients
We begin our client relationship journey with our ALMIS Implementation Methodology (AIM) project management framework. This outlines the processes, procedures and best practices we use to make sure your software is installed successfully.
GETTING TO THE SUMMIT
QUICKLY AND SAFELY WITH AIM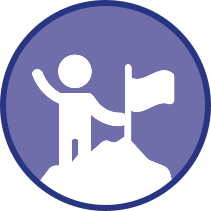 GUIDE
Online help centre and community
ALMIS analyst support and training
Masterclasses
External accredited partners

TOOL KITS
Standard or enhanced data interfaces
Open source data extraction scripts
Out of the box customisable transformations
Custom mapping and concatenations

ROUTE PLANNING
Project scoping
Dedicated project plan with milestones
Prescribed work streams and responsibilities
Project oversight and reporting

Clients we've helped reach the summit
Vive Bank
Find out how we've set up this new online bank with treasury and regulatory reporting solutions including ALMIS® RR and our relational database Middle Office+.
Unity Trust Bank
Find out how our ALMIS® and Cobalt® solutions eliminated time-consuming manual input of data for the bank, especially in the area of regulatory reporting.
Here are some of the other services we offer our clients
We can deliver training at your site, online or at our Edinburgh office
Our experienced ALM/Treasury specialists can deliver various levels of training that cover industry best practice for interest rate risk, ALCO reporting, liquidity risk, financial planning, regulatory reporting and hedge accounting. You can also book a training session with one of our Financial Analysts who can show you how to get the most out of our ALMIS® and Cobalt® software solutions.
You can take part in our webinars, masterclasses workshops and user groups
We know how important it is for people in the industry to network so we offer a series of free webinars and other events throughout the year for our clients.